Tips on Wedding Dress Cleaning and Preservation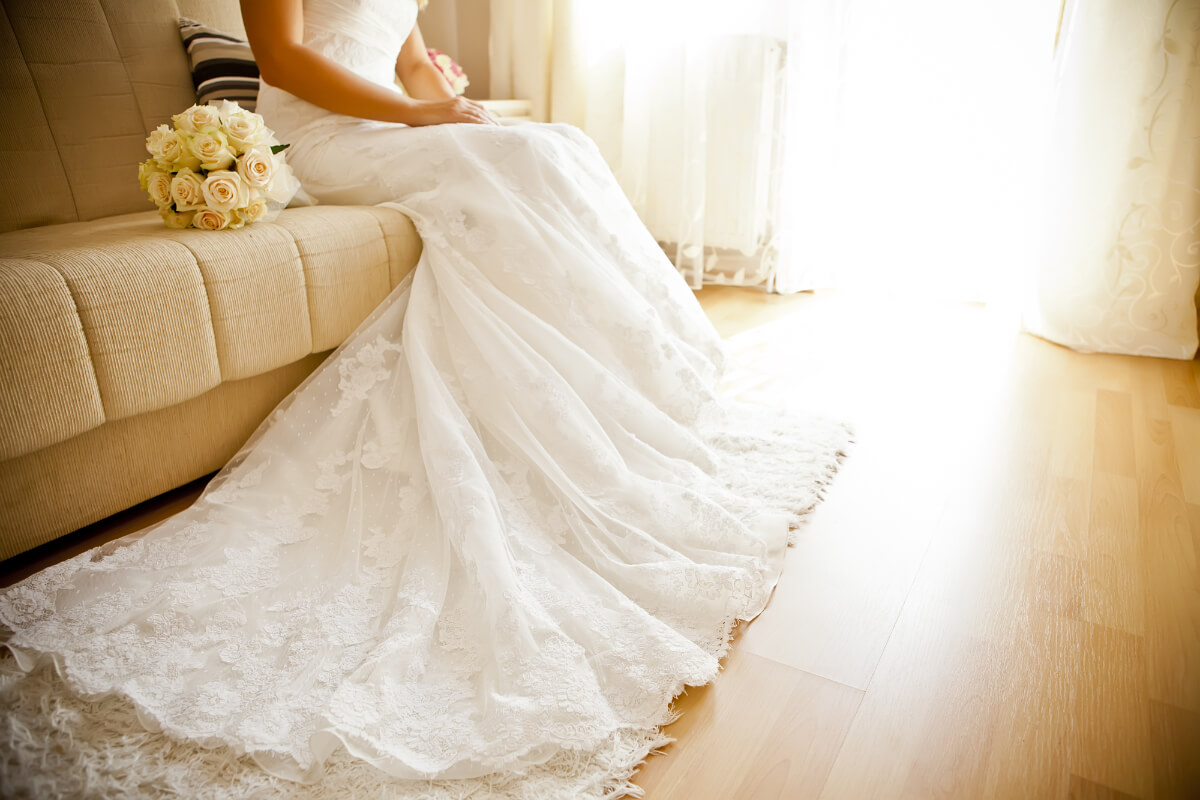 Bridal gowns are a key memento of your wedding day, therefore it is important to have it preserved for your future use, such as when you renew your vows, or when your daughter or granddaughter asks to wear your wedding dress for her nuptials. Wedding dress cleaning is the second and most important step to take prior to having your gown preserved. The most important step to take is to contact Cameo by Copeland Cleaners, your trusted dry cleaners in the New York TriState, to pick up and begin the dry cleaning and preservation process for your future heirloom.
You might question whether it is necessary to preserve your wedding gown. Surely a thorough dry cleaning and storage in a clothes closet is enough? Not if you care about how well your dress will age, if any unnoticed stains will set, and how well embellishments such as beading, lace, and silk fibers will remain intact. Over 80 years, the professionals at Cameo by Copeland Cleaners have perfected our wedding dress cleaning and preservation processes. It is essential to not only have your gown carefully inspected and dry-cleaned, but also to have it preserved, wrapped in acid-free paper and muslin, placed in a lignin-free storage box. Lignin is naturally found in paper products and provides body to cell structures, so it can make fabrics stiff and hard. The box is also wrapped in a muslin bag, and then stored in a climate-controlled area of your home or at our premises.
While wedding dress cleaning will remove stains, in the experienced hands of a wedding gown preservationist your bridal attire will be carefully treated so that it remains in pristine condition for years to come. When you consider having your bridal dress preserved, think of it as a museum-quality process that will not only maintain the structural integrity of the garment, but also delicate silk, lace, and brocade fabrics. Threads that hold beading and comprise intricate embroidery require the utmost care. Cameo by Copeland's bridal gown experts will first determine the appropriate solvents to use to thoroughly clean your gown without damage to fibers or embellishments.
As stated above, your gown will be returned to you in a box that ensures the pH remains neutral. This means that the air and moisture is controlled so the acidity level inside the box is stable and will not cause the fabrics to degrade. Your gown itself will be filled with acid-free tissue to promote air flow before the gown is wrapped in muslin and placed in the box. The box is then covered in muslin as well to provide an additional air filter so that the air is treated and free of impurities. This extra step is reflective of the quality inherent in every service that Cameo by Copeland Cleaners provides. Once preserved, this does not mean that your bridal gown cannot be opened or admired. We do recommend, however, that if you do open the box, that you wear white, lint-free gloves available at any photo supply. This way you will avoid leaving oils from your fingerprints which could create a stain over time. If you do not live in the TriState, do not be concerned. Many brides across the country send us their gowns for our wedding dress cleaning and preservation services. Know that the return shipping is free of charge! And if you do live locally, we will be glad to dispatch our fleet to pick up and return your cleaned and preserved bridal finery, again the return trip is without cost to you.
Contact us today to learn more about our wedding dress cleaning services or to schedule a pickup!