Wedding Gown Dry Cleaning After Your Summer Wedding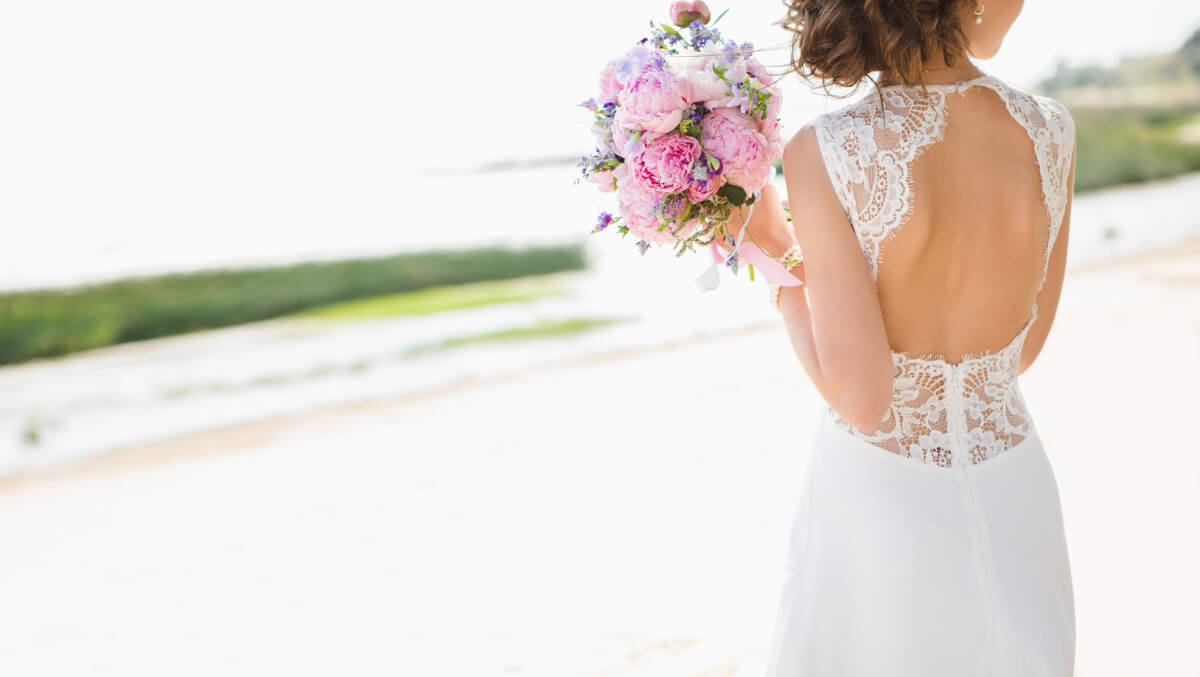 Summer weddings, indeed summer wedding venues, are unlike any other. Many of today's brides opt to take their vows on the beach, with the surf crashing in the background. While more adventurous brides have chosen outdoor facilities such as parks, botanical gardens, and even zoos! Warmer weather often prompts a couple's decision to select an unconventional location for their ceremony. While such sites are memorable for both the ceremony and reception, they present additional challenges when trying to keep a traditional white wedding gown pristine. That is why it is extremely important for Summer brides to contact Cameo by Copeland Cleaners as soon as you return from your honeymoon regarding our wedding gown dry cleaning services.
We know that after you return, there are postnuptial obligations stemming from sending out thank-yous, to setting up and beginning your new lives together. However, while you were away, various substances from sea spray, sand, dirt, grime, sweat, and unnoticed food and beverage stains began to set into the fibers of your gown. Therefore, it is imperative that you bring your wedding finery to Cameo by Copeland Cleaners, so our experts can assess its condition and create a customized wedding gown dry cleaning process to ensure its return to pristine condition. Do not be concerned if you do not live in the Northeastern United States. For over 80 years, brides from all over the country have shipped their wedding gowns to Cameo by Copeland Cleaners for our expert cleaning and preservation of their bridal garments.
Once your gown is in our care, our professionals will assess its present condition. First, we will note the fabrics – are they natural fibers such as silk, or synthetic such as nylon or polyester? Opaque or sheer? Embellished or plain? Lacey or woven? The composition of your gown will dictate the wedding gown dry cleaning methods we will use. We will also scrutinize the surface, looking for any imperfections that require attention. Should any fastenings such as zippers, snaps, hooks and eyes, etc. require replacement or a lining or seam need to be resewn, all repairs will be made prior to cleaning. At the same time, all stains, grime, smudges, etc. will be noted as well as their composition. Each stain will be individually treated to ensure its complete removal without damaging the fabric. It is Cameo by Copeland Cleaners' attention to the smallest detail that has made our establishment the choice of discriminating New Yorkers since 1934.
Also, many an upcoming bride who has opted to wear their mother's or grandmother's gown has discovered to their horror that time has not been kind to their family heirloom. Perhaps the wedding dress has developed a yellow cast, or some of the threads supporting elaborate beading have given way. No matter. Contact our team of bridal gown professionals and we will assess your individual needs. It is entirely likely that in the hands of our capable experts employing gentle wedding gown dry cleaning processes, that your treasured keepsake can be returned to its original brightness and glory.
We invite brides to contact our professionals to discuss cleaning your wedding gown, as well as to learn more about why it is also important to have Cameo by Copeland Cleaners' expert  preservationists prepare your gown for future use. Contact us today!