Why It's Safe to Use Dry Cleaning Services for Your Wedding Gown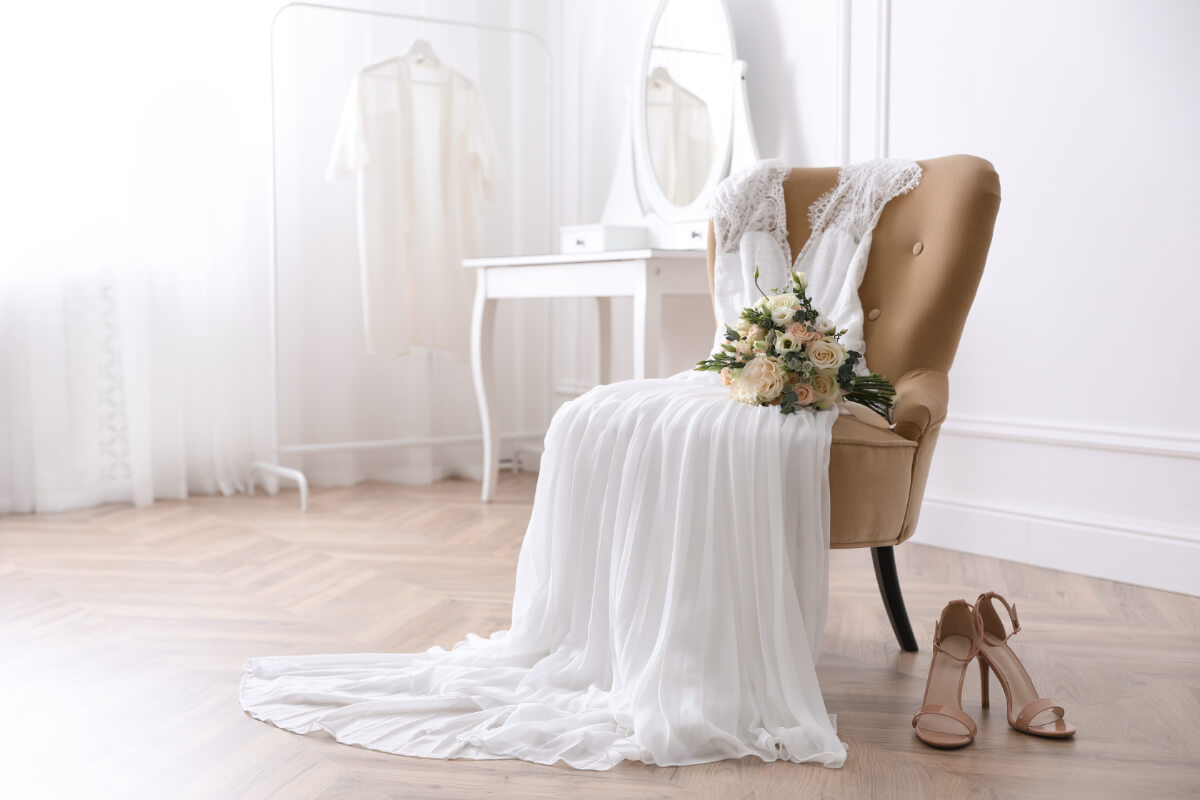 Many brides, concerned about preserving their wedding gown as a memento of their nuptials, consult with our dry cleaning experts at Cameo by Copeland Cleaners. Some are of the belief that dry cleaning solvents may damage delicate fibers or alter the color of the gown. In truth, there is no reason not to consider dry cleaning your bridal gown regardless of its style, fabric, and/or embellishments. For generations, Cameo by Copeland Cleaners has cleaned, restored, and preserved bridal finery for many of Manhattan's oldest families. Your quest for the finest 'wedding gown dry cleaning near me' is over: wherever you reside in the lower 48- bring, arrange for pickup, or send us your treasured bridal attire. We will treat your garment like family.
Often, during your big day, your gown may have accrued some stains that were not noticeable at first. But now, there they are: the mystery stain that could be champagne, or maybe from perspiration. Problem is, your gown is an heirloom, first worn by your great grandmother and fashioned of handmade irish lace. Or perhaps smudges from cosmetics have stained the front of your couture gown made from the finest silk charmeuse, and embellished with intricate beadwork. Again, no need to search for 'wedding gown dry cleaning near me.' By request, Cameo by Copeland Cleaners features the GreenEarth process using liquid sand, silicone, to gently remove stains, grime, smudges, and yes, those mystery stains, too.
GreenEarth is not only gentle on your clothing, it is hypoallergenic so it will not irritate sensitive skin. You will be glad to know that GreenEarth is also environmentally friendly as well. Cameo by Copeland Cleaner's dry cleaning experts will restore your bridal gown to its original, pristine condition, ready for the next-in-line to wear it! Additionally, we offer wedding dress preservation services that will keep your dress' colors true, and its threads and fibers from breaking down over time.
Best of all, as mentioned above, we invite brides from all over the country to send us their treasured garments. We will provide our expert dry cleaning and, upon request, preservation services, then return your garment without charge for the shipping.
For peace of mind on your wedding day and your happily ever after, contact the best "wedding dresses dry cleaners near me" -Cameo by Copeland Cleaners at  info@cameobycopeland.com.