How Safe is it to Dry Clean a Wedding Dress?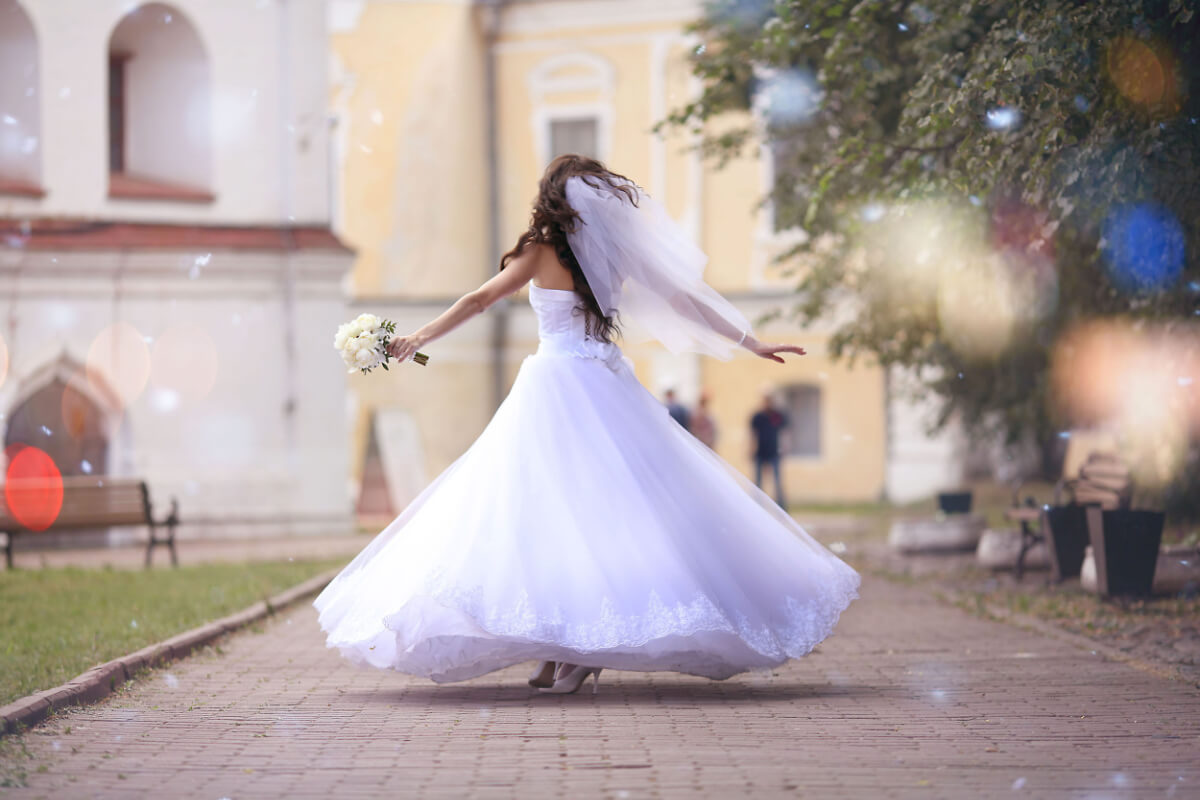 The quick answer is "very"!  Dry cleaning techniques and methodologies have continuously evolved over the 80+ years that Cameo by Copeland Cleaners has been in business, catering to the needs of Manhattan's most discriminating residents. We recognize that among the wardrobe items that our clients treasure most, their wedding finery usually takes top billing. Whether your wedding dress is this season's Monique Lhullier, Pnina Tornai, Vera Wang, a vintage shop purchase, or perhaps your family's heirloom gown, it most likely can be safely dry cleaned by our experts. There is no reason to consider searching online for 'wedding dress dry cleaning near me". Just arrange to have your dress picked up by our fleet, or bring it to our store.
Cameo by Copeland Cleaners wedding gown experts have extensive experience in dry cleaning gowns of every style and fabric, including embellished bridal dresses. We know that many designer dresses will have a care label with instructions on washing the dress by hand or having it dry cleaned. Our experts will use that tag as a starting point, a guide that states what products may be used in the cleaning of the gown, as well as any precautions to take. Our goal is to take excellent care of your gown and return it to a like new condition.
It is a rare wedding gown that does not have any accents and embellishments such as embroidery, delicate lace, and beading. And, while the garment's care tag might address how the fabric must be cleaned, it may not address the proper care that these accouterments require. Solvents that will not impact the gown's fibers, may dissolve plastic beading and permanently discolor beads made of glass. Often, lace appliques have been applied with glue. Again, some solvents may melt the glue as well as damage the fabric. Here again, Cameo by Copeland Cleaners' wedding gown experts will assess each gown we receive to determine the safest and best method to return the gown to pristine condition without causing any residual damage.
Gowns made from synthetic materials are usually excellent candidates for dry cleaning. On the other hand, a silk or heirloom gown may require specialized care, and the Cameo by Copeland Cleaners team is ready for the task!  We recommend our organic dry cleaning services, which treat delicate natural fibers as well as the environment with the greatest respect. These non-toxic cleaning agents are gentle on silks, satins, charmeuse, laces, beading, embroideries, and appliques. They will protect the shape of your garment, as well as its fabric and fibers' integrity to extend the life of your wedding gown. When you wear it again to celebrate a future anniversary, vow renewal, or pass your treasure along to your daughter, it will look as wonderful as it did the day you wore it as you walked down the aisle.
As we are speaking about cleaning your treasured gown, we recommend having it preserved at the same time. Our process is meticulous and ensures that you will be able to look at it from time to time and that it will maintain its shape and appearance for years to come. So forgo Googling 'wedding dress dry cleaning near me" and arrange to have your gown delivered to our team. Be sure to ask about our wedding gown preservation services as well.
To learn more, contact us today!