Professional Tips for a Stress-free Wedding Alterations Process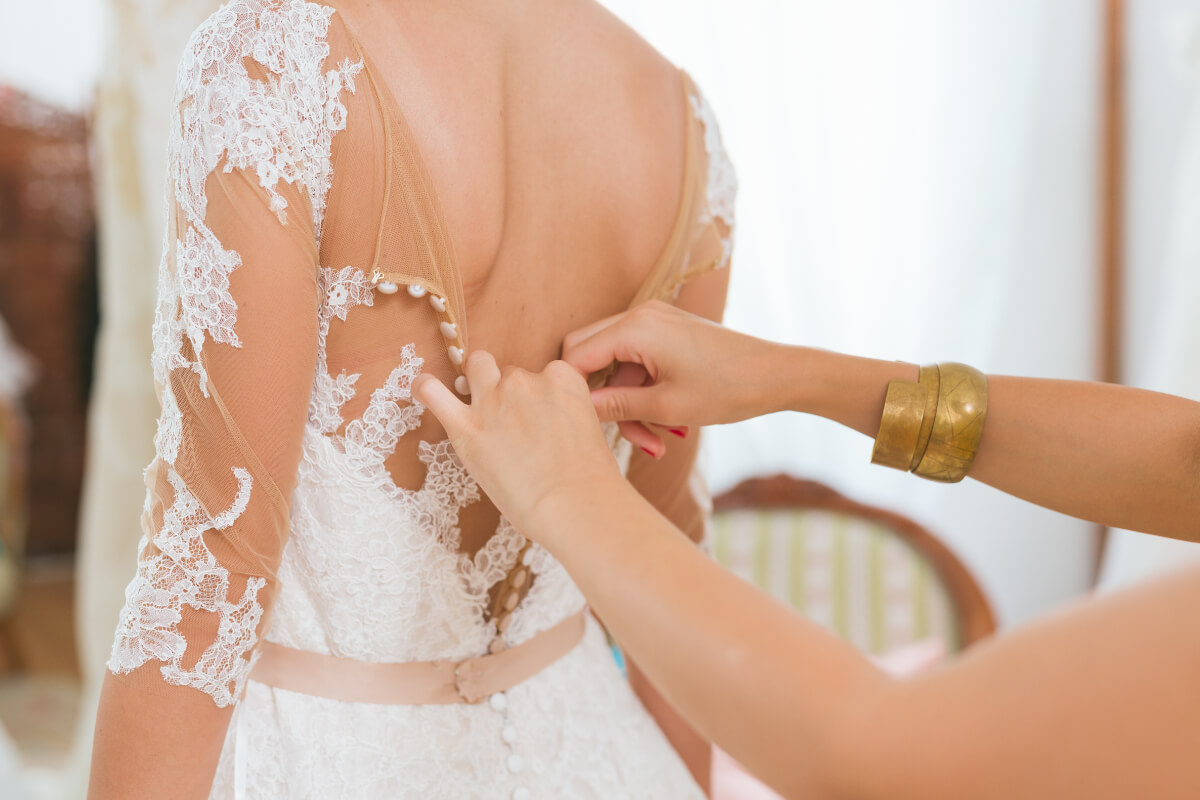 The day that most brides have dreamed about since childhood is about to become reality. Even if you have engaged the services of a wedding planner, there are still some important tasks that you and only you can fulfill. Key among them for TriState area brides is arranging for wedding dress alterations in NYC. Cameo by Copeland Cleaners, the choice of discriminating New Yorkers for decades, offers these tips for our bridal clients. We want to assist you in every way possible with the dry cleaning, alterations, and preservation of your wedding finery. Here are our tips to ensure that on the day of your nuptials, that your wedding dress meets your every expectation.
Bridal gown alterations are not a process that can be rushed. Cameo by Copeland Cleaners recommends that you book your appointment with us about 6 months prior to your ceremony. Be sure to request that your dress alterations are completed at least one month before your wedding.
This is no time to take a chance on an individual you've found in the classifieds. Cameo by Copeland Cleaners has been the choice of highly discriminating New York consumers for over 8 decades. If we can meet their expectations, we are confident that our experts can exceed yours.
Remember that June is the peak month for weddings. That means, if your wedding is planned for this time, that you'll need to contact us between September and October to engage our services for your wedding dress alterations. In NYC, after the June rush, there may be greater appointment availability, so be sure to contact our team as soon as possible after you secure your ceremony date. Know that Cameo by Copeland Cleaners' staffers will always try to accommodate our clients' dry cleaning, tailoring, and alterations needs, right up to and including the day of your wedding!
Make the most of your time with our seamstresses. Come to your first appointment with a list of questions. Remember, your seamstress is a seasoned professional who has altered hundreds, if not thousands of wedding gowns. She will be able to tell you which of your expectations are realistic and which are just not possible given the construction/size/fabric of your garment.
Your seamstress will also provide advice on the best undergarments to wear on your wedding day. Purchase these and wear them to all subsequent fittings, and of course, on your wedding day. If you change or substitute another type of garment, it will affect the measurements of your dress and require additional alterations to fit.
Shoe styles change with every season, but once your gown is hemmed, do not change your shoe heel height. To do so will completely throw off your wedding dress alterations and in NYC during the peak wedding months, it may be difficult to accommodate last minute alterations.
Do not balk at requests for additional alteration appointments. Your seamstress wants to create a gown that fits you like a glove and provides the confidence and self-esteem that every bride deserves on her special day. Additional fittings reduce and/or eliminate any margin for error.
Lastly, and most important. Do not go on a crash diet during the months immediately preceding your wedding. Weight loss is common, however some brides do put on a few pounds prior to their ceremony. Every 5 lb. Weight gain or loss mandates additional alterations. No bride needs the additional stress of having her already perfectly altered gown taken out or in to fit at the very last minute.
Cameo by Copeland Cleaners became the toast of Manhattan by always extending the finest customer service. We take an individual interest in each one of our clients. Your wedding day is our wedding day, and we will not let you down. Should your gown be damaged prior to the wedding, even on the day itself, know that we will swiftly dispatch a seamstress or tailor to make last-minute repairs to save the day! You can have complete confidence in Cameo by Copeland Cleaners' services, including our wedding dress alterations. NYC is renowned for having the most discriminating consumers who require, no expect paying attention to the smallest detail. For those planning their nuptials, know that by contacting Cameo by Copeland Cleaners for your wedding dress alterations in NYC, that it is one major consideration that you can cross off your list. Contact our team today to learn more!