How to Keep Your Upholstery Clean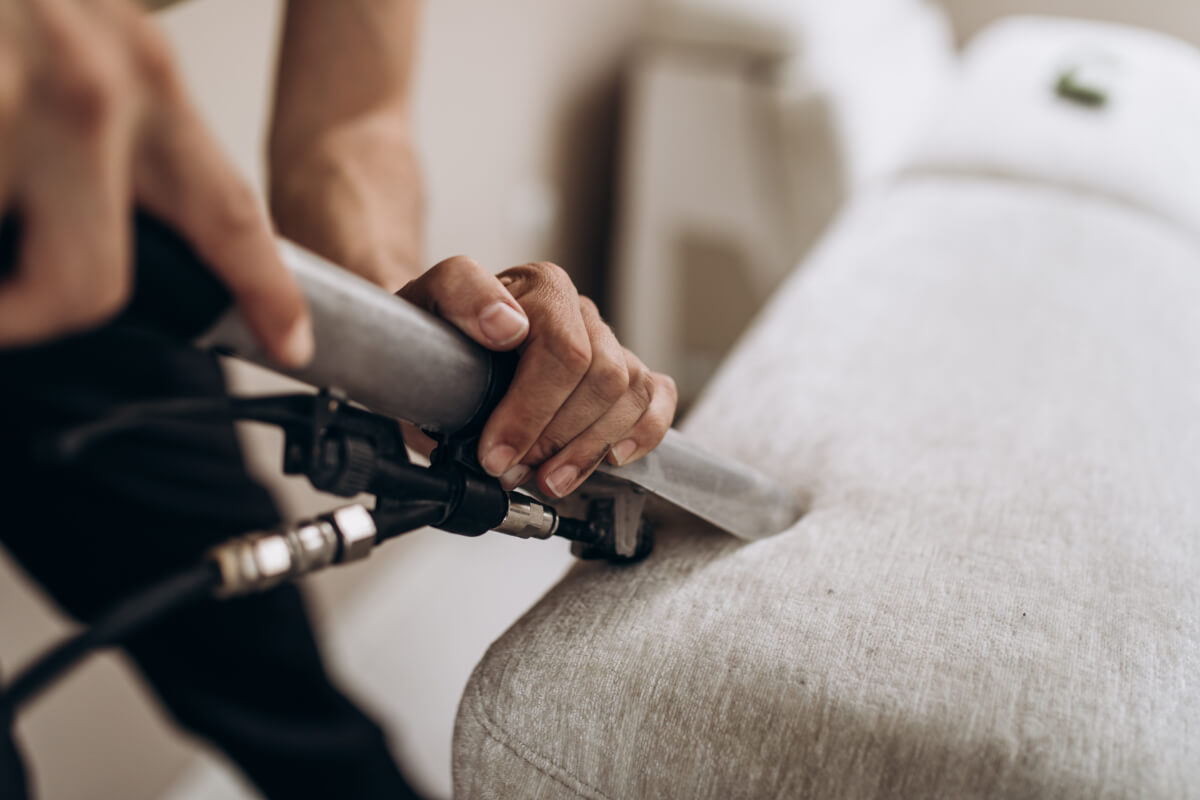 We all lead busy lives. Back in 2020, as none of us will soon forget, our daily commutes across town devolved into working from home and striving to keep out of each others' way. Our living spaces became makeshift home offices with couches, sectional sofas, and lounge chairs pressed into action as workspaces. This meant added wear and tear to woven and upholstered furnishings normally reserved for nightly, weekend, or company-only use. Our pets stayed indoors with us as well, and few smokers ventured outside when they took their breaks. The result was possibly unpleasant, lingering odors that found a home in our furnishings. Now that many of us have embraced the work-from-home lifestyle and no longer commute, others have a hybrid work arrangement. This means a dedicated home workspace as well as a trek to their corporate offices, in carefully dry-cleaned and pressed work attire, several days a week. It's now time to 'suit up' your home office environment as well with the best upholstery cleaning in NYC from Cameo by Copeland Cleaners.
For some, upholstery cleaning in NYC means buying spray bottles of pleasant-smelling products at the grocery store and/or plugging in a scented room deodorizer in a nearby electrical outlet. Those are just stop-gap measures, however. They mask but do not eradicate odors. Nor do they sanitize upholstery which may harbor dust, allergens, and germs. The best way to clean your woven furnishings and to keep them cleaner longer, is to contact Cameo by Copeland Cleaners, for the best upholstery cleaning in NYC. The value of contacting Cameo by Copeland for your upholstery cleaning in NYC and the surrounding areas is that our professionals come to you. We will assess the scope of the task and get to work. The best upholstery cleaner is a steam cleaner. We do not mean those handheld, or dressmaker machines used for removing wrinkles from clothing. Our steam cleaners are specialized tools that create sufficient steam to penetrate the fibers of your upholstery without saturating the material.
Our professional upholstery steam cleaning services utilize tools that will get down deep into the furniture to kill any bacteria, and lift out dust and any debris such as foods and beverages that may have been spilled. No device designed for residential use can clean your furniture, decorative pillows, and even draperies remotely as well. In fact, using these inefficient and ineffective tools and products may only drive these pollutants deeper into their padding, causing them to wear out faster. Worse yet, after your makeshift efforts, any smells will remain, and mold and mildew can even form. You've depended on Cameo by Copeland Cleaners to keep your investment working wardrobes in top shape. Turn to us as well to keep your 'home office' and work environment, or if you simply use your living room for its original purpose, fresh, germ and odor-free, and above all, immaculately clean. You'll soon see that there is no need to Google, 'best upholstery cleaning in NYC'.  We've served you and your wardrobe well, be sure to ask us about our residential services, to extend the service life of your upholstered furnishings.
To learn more, contact Cameo by Copeland Cleaners today. Your furniture will thank you!