Benefits of Professional Rug Dry Cleaning Services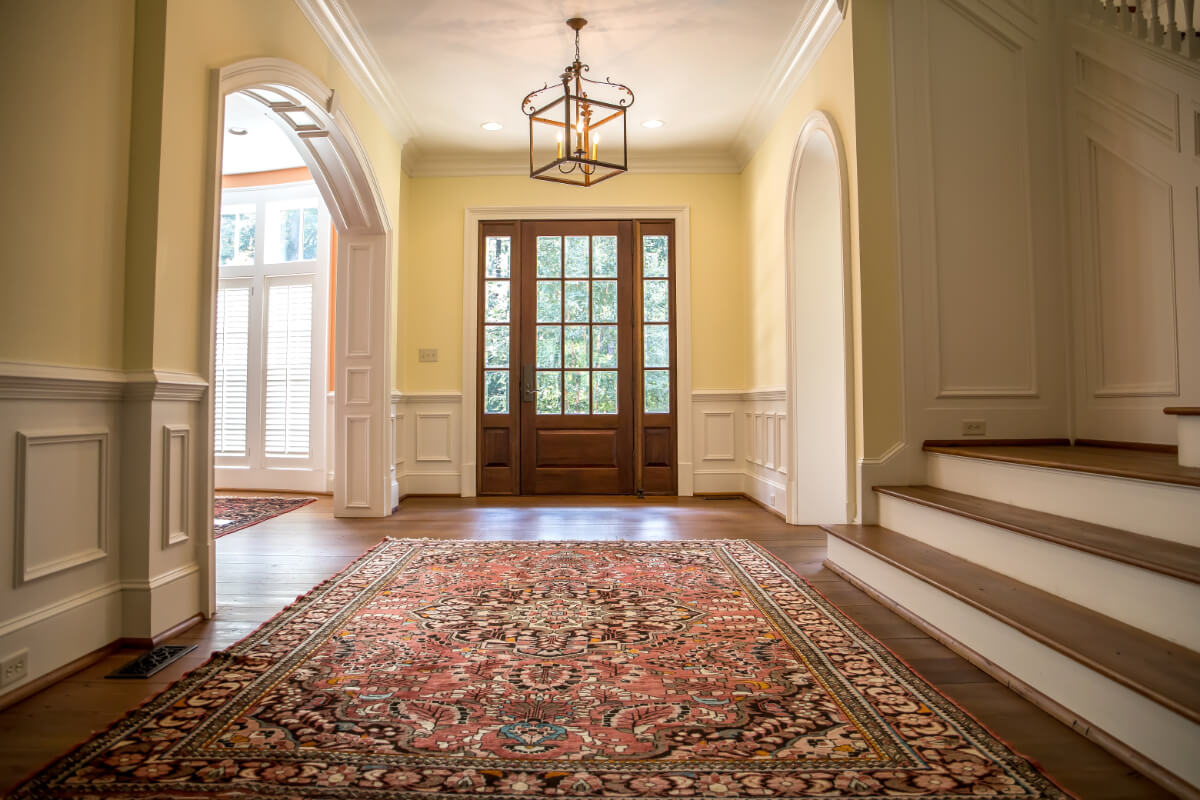 For the past two decades, homeowners in the TriState have opted for hard surface floors with wood plank flooring as their top choice. Also, the rise in popularity of open floor plan living has removed the walls that define our living spaces. What ties these spaces together and provides delineation as well? Area rugs. There are many great choices in area rugs from entrance mats, to hallway runners, to square and rectangular rugs that vary in size from 4 feet by 6 feet to as large as 12 feet by 18 feet and even beyond! These floor coverings can see heavy foot traffic daily. And these same rugs cannot be expected to come clean with just a weekly vacuuming and an occasional spot clean when someone spills a beverage. Dirt comes into our premises on our shoe soles and gets ground into area rug fibers. That's why, for the health of your home and your family, you should arrange to have Cameo by Copeland Cleaners perform our professional rug dry cleaning services on a regular basis.
Just give our professionals a call, and we'll dispatch one of our fleets to pick up your rugs. They will be carefully rolled and taken to our premises, where we'll assess their cleaning requirements as well as their fiber composition. Special care has to be taken when cleaning wool rugs, for example, to avoid shrinkage. Some dyes are not colorfast, so additional rug dry cleaning steps must be taken for optimal results. If there are any stains, especially wine stains, these must be treated first before the entire surface is addressed. The rug backing composition must also be assessed to make certain that dry cleaning solutions, even non-toxic chemicals, will not damage these fibers as well. There are other considerations, for example, the finest of care must be given to hand-knotted oriental and vintage or antique hand woven rugs. Whatever rugs you have, our results will exceed your expectations.
At Cameo by Copeland Cleaners, we've cleaned and maintained the rugs for clients in Fifth Avenue penthouses, as well as Gold Coast Mansions on Long Island. And every size dwelling in between. Whatever type of area rugs grace your home, we will treat them as if they were from Buckingham Palace itself. Over 80 years of rug dry cleaning expertise has earned our establishment the trust of generations of discriminating New Yorkers.
Contact our professionals with your questions or to arrange a pickup. Call today!