Are Wedding Dress Alterations Worth It?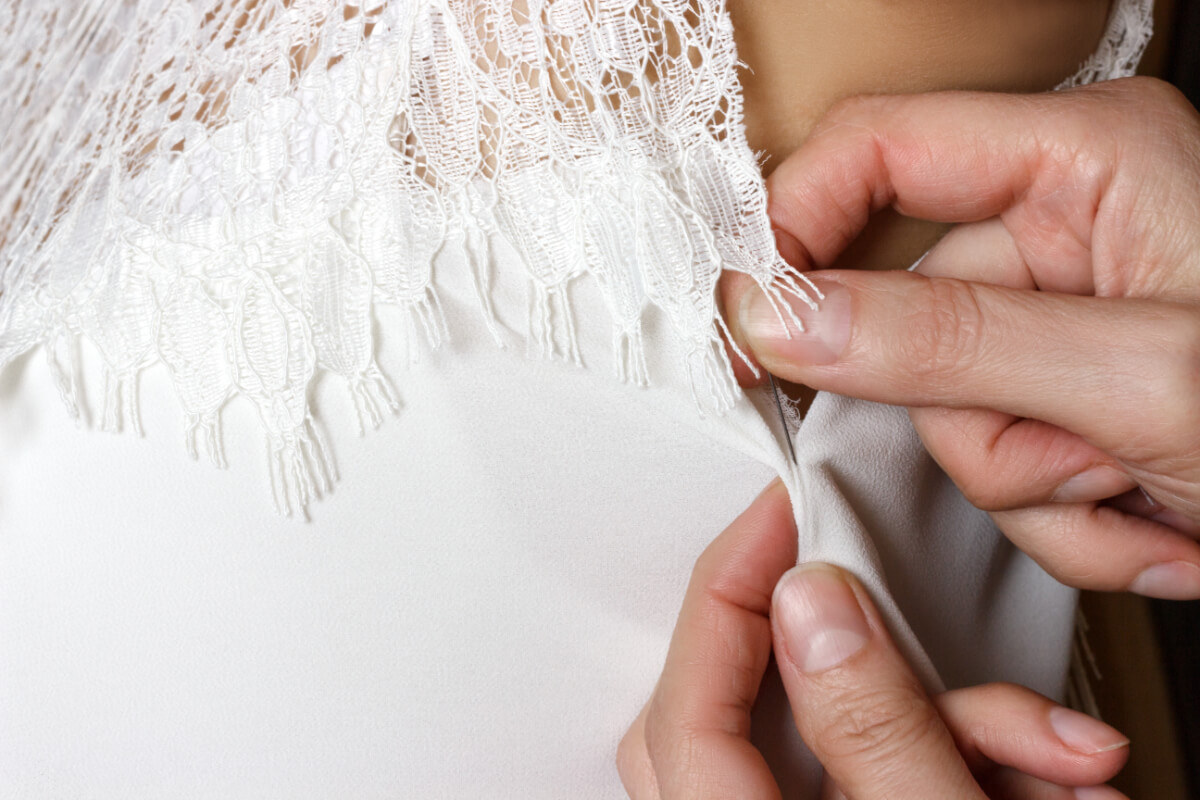 Many of today's brides are striving to achieve the best wedding experience possible and to receive optimum value for every dollar they spend. It is becoming more and more common for brides to turn to their mother's and even grandmother's closets for their wedding finery, and to wear a family heirloom instead of purchasing their own gown. Other brides go the discounted route and travel sometimes across state lines to visit wedding gown outlet stores. These specialized emporiums feature last season's designer-line bridal dresses in sample sizes as well as overstocks. While these stores can yield bargains, there is still the matter of ensuring that the trophy dress fits like a glove and showcases the bride to her best advantage. After all, what bride doesn't want to look her best on her wedding day? To answer the title question, it is best to follow the lead of generations of Manhattan brides who turned to Cameo by Copeland Cleaners for the finest wedding dress alterations in NYC – or anywhere for that matter!
What can you expect by bringing your bridal gown to Cameo by Copeland Cleaners for wedding dress alterations? In NYC there are many bridal shops, some are high-end, that offer their own tailors and seamstresses. However, their timelines and your expectations may not dovetail. For example, when you purchase a gown from a bridal salon you will receive a fitting, and a return appointment to finalize the fit. That appointment may not be close to your wedding day, and it is the rare bride who does not continue to lose a few extra pounds before her big day! The result can be hundreds of dollars spent in vain and an ill-fitting garment. Instead, at Cameo by Copeland Cleaners, we fulfill our bride's expectation to help them to achieve a perfect fit.
Cameo by Copeland Cleaners bridal alterations experts have decades of experience along with the high levels of skill required to perform this type of clothing 'surgery'. The process is extremely labor-intensive, especially if the gown is made of lace, natural fibers such as silk, has embellishments such as sequins or lavish embroideries and even beadwork. These features are delicate, and must not be disturbed, so alterations are not just a matter of taking in or letting out seams or taking a hemline up or down. A well-altered wedding gown will both accentuate and compliment the bride's body type, to create maximum glamor and appeal. Our clients seeking Cameo by Copeland's wedding dress alterations in NYC have no time for or margin for error, especially as many additionally request extensive changes to their gown, such as adding sleeves, extending or shortening a train, adding beadwork, changing the type of buttons used to close the back, adding a bustle, oh the list does go on and on and our alterations experts can capably perform all these tasks because for years, they already have.
Another aspect of Cameo by Copeland's renown is our complete dedication to providing the highest level of customer service, especially to our brides. Should you or a member of your wedding party have an issue on the day of the wedding, even en route to the ceremony, if at all possible, we will dispatch a tailoring expert to quickly make a last minute repair. Expertise and the ultimate in customer service are two reasons why, for over eight decades, Cameo by Copeland Cleaners has been the toast of Manhattan and many a bride.
Come see for yourself! Whatever your bridal, wardrobe, or household cleaning requirements, contact our establishment to learn more about our stellar services. Call today!