What Types of Sweaters Should Be Professionally Dry Cleaned?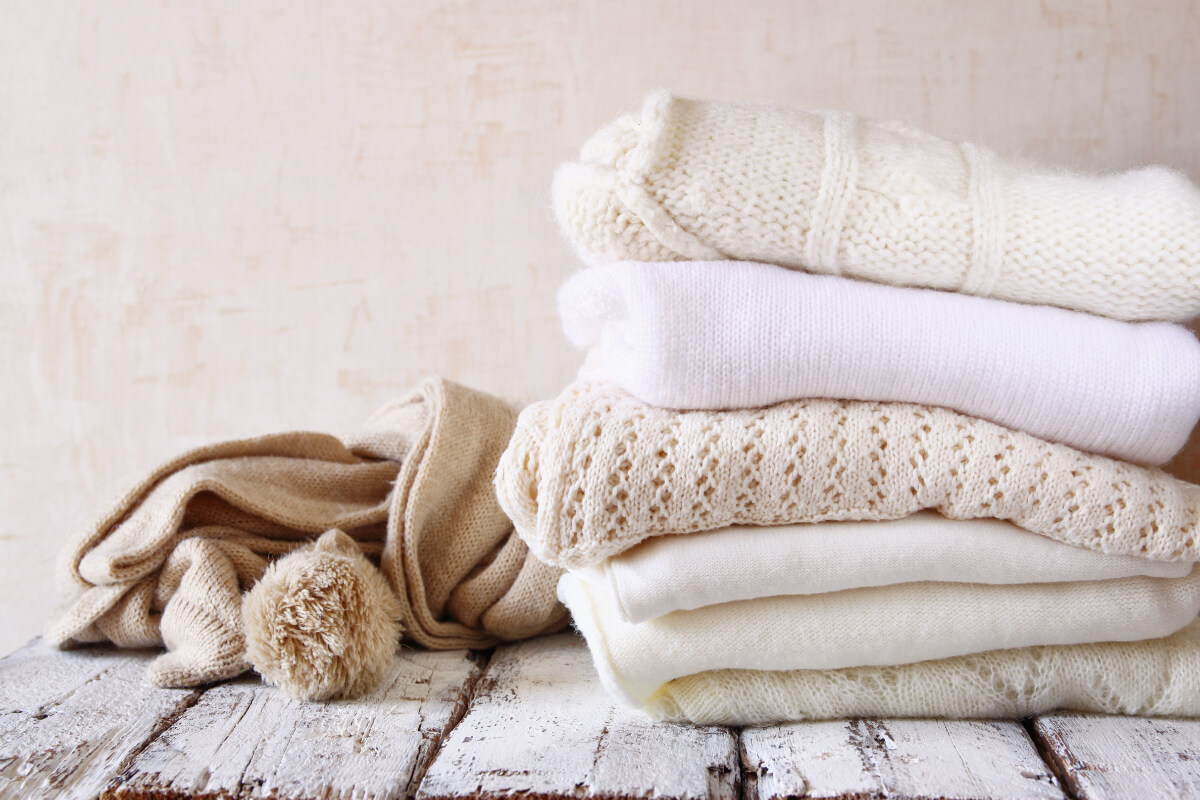 We all have a favorite sweater. Be it handmade or hand-me-down, there is something about the gentle hug of warmth that only a quality sweater can provide. There is much controversy, however, as to which sweater fibers can be washed in the washing machine, which may be carefully hand washed, and what types of knit garments need to be professionally cleaned. At Cameo by Copeland Cleaners, sweater dry cleaning is an art form. We assess each garment to determine the best methods to use. Here are our recommendations for optimal sweater care:
Understandably, sweaters with beadwork and embroidery must be treated with the utmost care, as are sweaters knit from delicate fibers such as silk. The fibers must be treated gently to prevent matting, and of course, the embroidery and beadwork threads must be protected from breakage. Dry cleaning is the only way to clean these garments to prevent damage and premature wear.
Until recently, every cotton and linen yarn manufacturer took the extra step to mercentize the yarns before they were knit into garments. This process strengthens the fibers and allows them to hold color longer. Today, this is seldom the case therefore to avoid shrinkage and fading, sweater dry cleaning is highly recommended.
Wools must never be machine or hand washed. Not only will these processes mat or pill the fibers by removing the lanolin that protects its integrity, but also causes shrinkage. Shetland and angora wools are especially susceptible to damage as they have long strands which can easily break, matte, or snarl during a wash cycle. Some dyes used in processing wools such as merino and cashmere, may not be colorfast in water so extra care needs to be taken to protect against bleeding and color fade. This is especially true for patterned knits, like argyles and Scandinavian sweaters, which combine contrasting colors such as white and red.
On the other hand, synthetics such as polyester and acrylic are very colorfast. However, these fibers mat and pill very easily, as well as shrink when wet. As more and more designers are including synthetics in their sweater collections because they allow the use of vivid colorways, it is important to understand that these garments, regardless of their cleaning labels, should also be brought into Cameo by Copeland Cleaners for our sweater dry cleaning services.
The best answer as to which types of sweaters should be professionally dry cleaned is: any and every sweater that you value and wish to keep in like new condition for as long as possible. Sweater dry cleaning services performed by the experts at Cameo by Copeland Cleaners will leave your garment refreshed, and with its service life extended. This way, you can don your treasured garment season after season, knowing that its longevity is secure as long as you bring it to our professionals for sweater dry cleaning.
To learn more or to schedule a pickup, contact us today!