What is the Difference Between Tailoring and Alterations?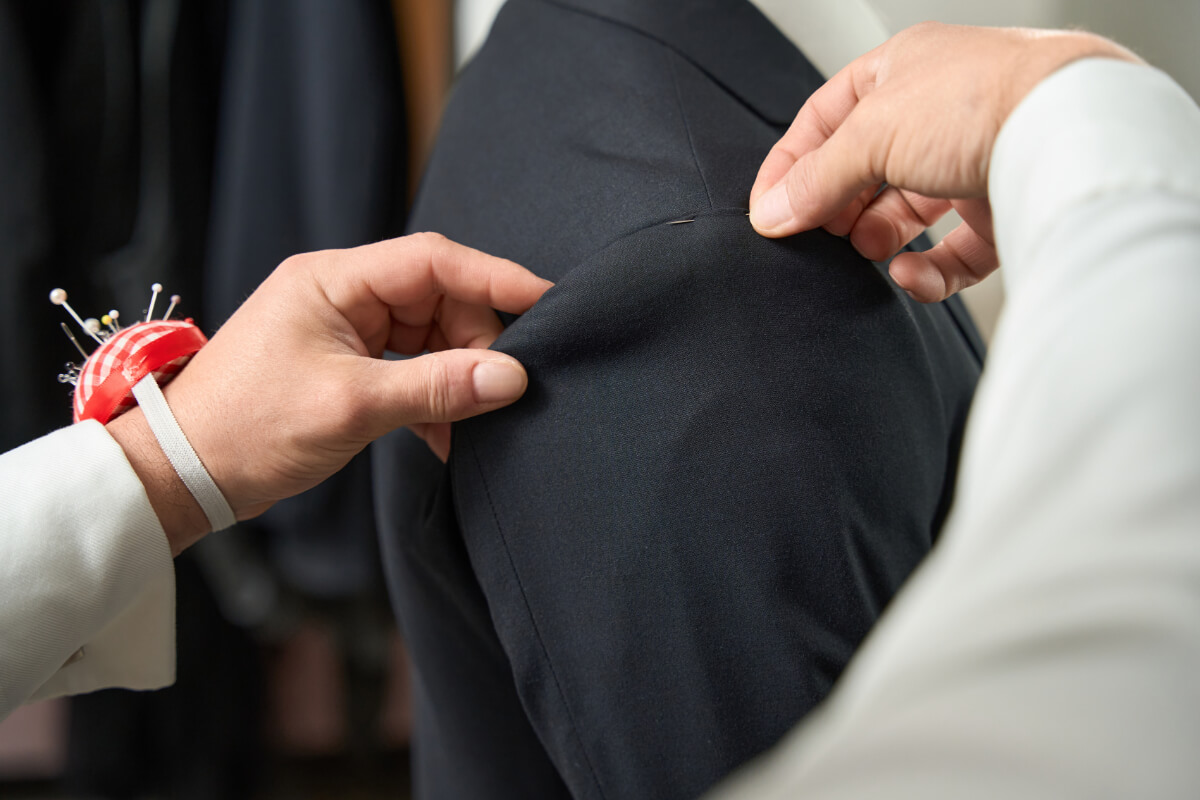 Good question! Simply put, tailors are sewing wizards who can craft a garment from the ground up to suit a client, or deftly reconstruct an existing garment to fit the owner's body precisely. They possess an arsenal of sewing skills and can customize one garment or an entire wardrobe to the client's exacting tastes – remove or widen lapels, reshape a skirt or bodice, reline a coat, or convert an out-of-style suit into one of today's top trends. On the other hand, those who specialize in making alterations work with an existing garment. They may be required to take in a seam, replace a button or zipper, or raise or lower a hem. At Cameo by Copeland Cleaners, we specialize in every type of wardrobe service you and your clothing will ever need. Should you require expert tailoring or alterations, forget about Googling 'alteration services near me'. We have your back. Literally. Just bring us your clothing to be altered or tailored for the same expert treatment you've come to expect from us as your dry cleaners!
When should you consider having your clothing altered? Many of our clients bring us their off-the-rack purchases to be better-fitted to their bodies. That is because most clothing is designed for very small sized fit models, then scaled up, possibly from size 2 up to size 14. The result for the larger sizes is an uneven fit, as people's proportions change with successive sizes that are not accounted for when initially draping a garment on a smaller fit model. So if you snagged that top designer dress at a clearance sale, but it languishes in your closet, causing guilty feelings over its expense, but the garment just does not fit you 'right', bring it to us. If you have lost weight and a new wardrobe is not in the cards, again, make Cameo by Copeland Cleaners your destination. And, if you want to wear your wedding gown again at your vow renewal, but the years and two children later the waistline is tight, again, just bring it to our professionals. All it might need to make you shine on your anniversary or become your wardrobe 'go to' is to have a seam let out, or a hemline adjusted. Let us be the judge!
It is also true for generations that in certain professions, there is an expected level of quality in the wearer's clothing choices. Plaids must match, buttons should be leather or shell, and a pant's knife pleats crisp. However, bespoke or designer clothing is beyond the means of many of us. Unless you happen to know a tailor…Cameo by Copeland Cleaners offers superior tailoring services. Whether it is your intention to have a tailored suit crafted by our experts, or to have the lapels on your favorite jacket trimmed to mirror today's runway offerings, we invite you to consult with our tailors to determine the best course to take to achieve your desired outcome.
We've discussed the differences between tailoring and alterations, but the goal of each is the same: to enable our clients to own custom-fitted clothing that showcases them well! Forgo searching online for 'alteration services near me'.
Learn more about our superb alterations and tailoring services by contacting Cameo by Copeland Cleaners today!