Cleaning and Storing Your Table Linens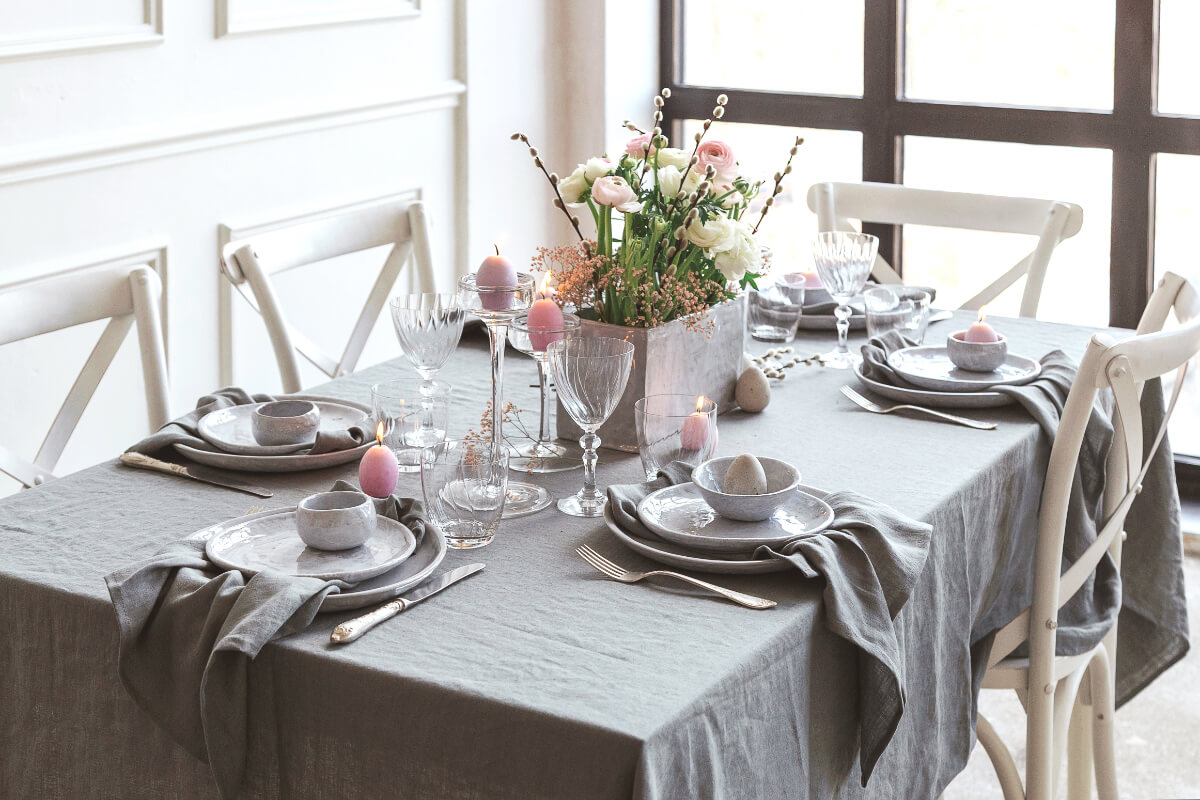 Many of us carry on the tradition of laying a formal table for special meals. Whether you celebrate gathering the family together for the holidays, birthdays, or just Sunday supper, these occasions usually call for dressing the table in your finest linens. Especially if your tablecloths, runners, and napkins are used infrequently, it is important to send these out to Cameo by Copeland Cleaners' expert linen laundry service.
Things to Consider When Cleaning Table Linens
Now that the holiday season is here, we recommend that you take out your linens, lay them out, and examine these carefully. Chances are you'll see that the gravy spill from last Christmas that you carefully washed as soon as your guests departed shows some residual discoloration. Stains such as wine, fruit, gravy, and grease will set over time, making their complete removal difficult. There are additional considerations when removing stains that include the durability of the fabric and if the table linens are white or colored. Be aware that careless stain removal efforts can remove the color and ruin the tablecloth. At Cameo by Copeland Cleaners, our linen laundry service cleaning experts take pride in restoring your table linens to their original spotless appearance, ready for your next dinner party or family celebration.
What to do After Cleaning Your Table Linens
Ideally, after careful cleaning, your linens will have been stored neatly folded in a drawer in a breakfront or if you live in an older home, in the linen closet. In bygone days, the homes of persons of substance reflected their position in society with butlers and linen closets. Should your residence feature one of these, be sure to return the closet to its original purpose. If not, purchase acid-free boxes, and store your freshly laundered tablecloths from Cameo by Copeland Cleaners' linen laundry service on a clean, dry shelf away from direct sunlight.
Superior Linen Laundry Services at Cameo by Copeland Cleaners
On that note, Cameo by Copeland Cleaners fully realizes the value of our client's time. We do not expect you to lug your soiled linens to our premises. Instead, contact us and we will dispatch our vehicle within our service area to pick up your table linens. Whether your linens are heirlooms or recently purchased, each will receive the individual attention it deserves. After our linen laundry service has carefully cleaned and laundered your tablecloths, we'll drop them off at no charge for delivery. To consult with our experts or to schedule a pickup, we invite you to contact us today! Remember to contact us again after the holidays to ensure your tablecloths are thoroughly cleaned prior to storing until your next event!